Dr. Brandi Kiel Reese is a Senior Marine Scientist at the Dauphin Island Sea Lab and an Associate Professor of Marine Sciences at the University of South Alabama. She came to Alabama from Texas, where she was an Assistant Professor at Texas A&M University-Corpus Christi.
She holds an MS (2007) from the University of California-Riverside in Soil and Water Sciences and Ph.D. (2011) from Texas A&M University in Oceanography.
Dr. Kiel Reese is a microbial ecologist and biogeochemist who uses advanced molecular techniques such as single-cell genomics, metatranscriptomics, and metagenomics to interrogate cellular life in the sediment and in extreme environments such as the marine deep subsurface and underwater mud volcanoes.
International Ocean Discovery Program
My research is interdisciplinary by bringing together Geology, Molecular Microbiology, and Geochemistry to provide a more integrated examination of aquatic and sediment biogeochemical cycling.
When examining various environments, I am guided by fundamental questions such as:
Who is alive?
What are they doing?
What are the global implications of microbial life within Earth systems?
Specifically, my lab specializes in combining state-of-the-art culture-independent molecular techniques (including metatranscriptomics and metagenomics) with high throughput culturing and advanced geochemical analysis to describe the total microbial environment.
This systems biology approach to understanding microbial ecology has spanned marine and freshwater; shallow sediments within estuaries and coastal hypoxic zones; deeply buried continental mines and caves, and marine subsurface sediments through the International Ocean Discovery Program (IODP).
Microbial Ecology
Geomicrobiology
Marine Organisms and Processes
Microbial Diversity and Ecology
Environmental Microbiology
Oceanography
Essentials of Oceanography Lab
Marine Microbial Molecular Methods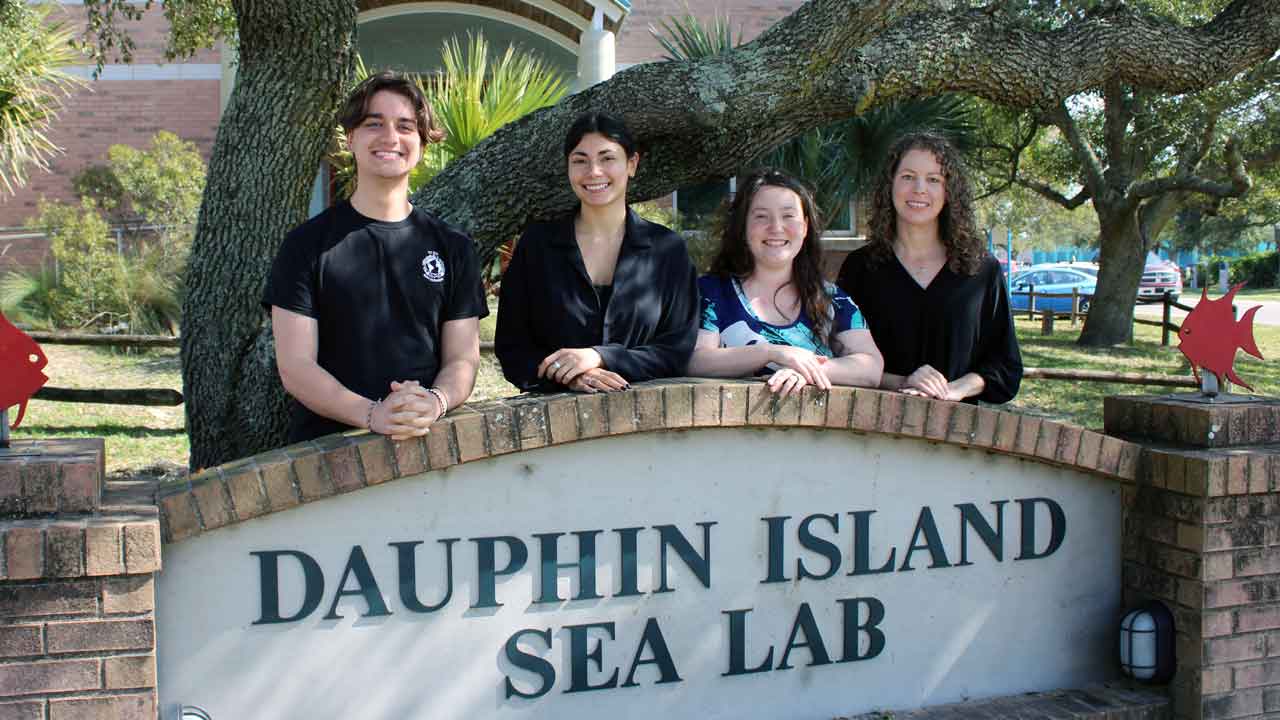 Left to right: Caleb Boyd, Penny Demetriades, Lydia Hayes-Guastella, and Dr. Brandi Kiel Reese
Caleb is interested in anything outdoor related, as well as working microbes in extreme environments. In the Kiel Reese Lab, he Is studying microbial mediated methane cycling in the Ross Sea.
Penny is interested in the interactions between marine ecosystems and anthropogenic threats. In the Kiel Reese lab, she is utilizing advanced microbial source tracking techniques to investigate sources of pathogens and contaminants to Mobile Bay, with the goal of improving community and ecosystem health.