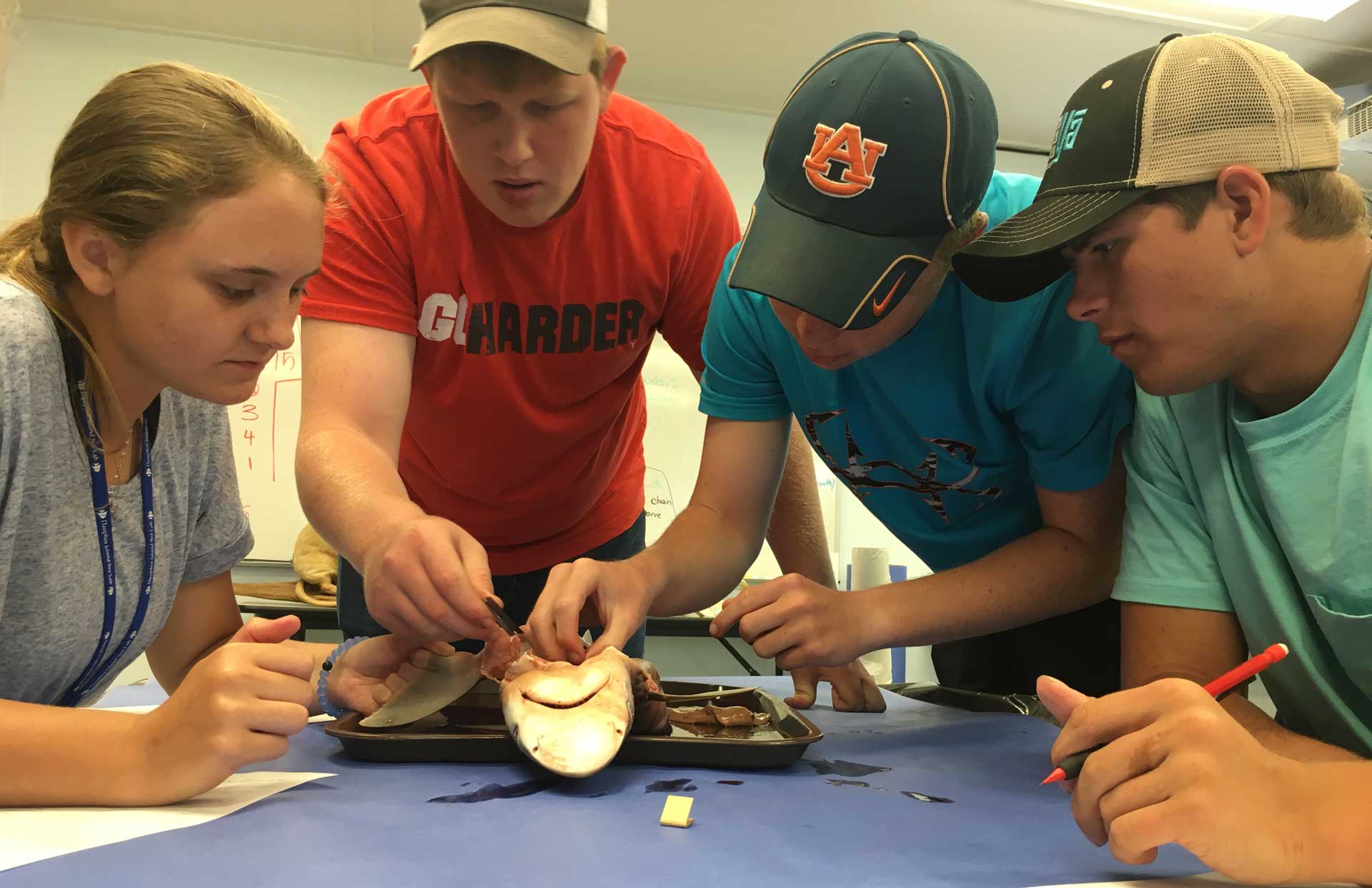 For rising 9th-12th graders
2023 Dates: June 18 through July 14, 2023
Program Cost: $2,750
Registration is closed for 2023. Check back in late fall for the 2024 dates.
The Residential Marine Science Class is an immersive 4-week academic class that introduces high school students to the field of marine science. The course gives students a better understanding and appreciation of the various disciplines in marine biology and oceanography.
Students live on campus and participate in more than 180 hours of supervised academic activities. Students take part in fieldwork, individual and group assignments, lectures, laboratory investigations, off-campus field trips, research projects, oral presentations, and written and practical examinations.
About one-third of the class is spent in the field, one-third involves classroom lectures, and about one-third is spent int he laboratory doing dissections, experiments, identification of species, and individual research projects. Along with the coursework, there is free time during the four-week class for students.
A team of three faculty teach the course with other visiting professors making contributions of expertise on occasion.
| Topics include: | | |
| --- | --- | --- |
| Marine Ecology | Principles of Oceanography | Marine Geology |
| Marine Invertebrates | Marine Vertabrates | Estuarine Ecology |
| Plankton Biology | Fisheries | Marine Technology |
| Barrier Island Ecology | Human Impacts | Ocean Chemistry |
Up to 30 students are accepted in to the Residential Marine Science Class. Students are typically 15-17 years old and come from all over the United States. Students are assigned a roommate of the same gender with four adult chaperones living in the dorms with the students.
Questions about the course and application process can be sent to DHPsummer@disl.edu.
The Alabama State Department of Education has approved this marine science class for science elective credit. With prior approval by their school, Alabama public school system students may take the course as the third or fourth science class required for graduation. Students may elect to the course either high school science elective or college credit.
Out-of-state or private schools are encouraged to grant course credit toward a standard or advanced high school diploma for successful completion of the class.
Students may also choose to receive 1 undergraduate credit hour in biology from the University of West Alabama for successful completion (grade of C or above). Note that additional fees (registration, tuition) payable to UWA are required.
There are several scholarship opportunities for students interested in the Residential Marine Science Class. Please indicate your interest in these scholarships on the application form.
The Jenny Cook Memorial Scholarship provides full tuition for a student to attend the Marine Science High School Course. Students who wish to be considered for the scholarship should include, in addition to the standard application materials, a brief (~2-3 min) video communicating their enthusiasm for the ocean environment and their goals in attending the program.

Jenny Cook was an educator in Discovery Hall Programs for more than 30 years, and our programs would not be what they are today without her enthusiasm and skill in marine science education. Through the years, Jenny's work at the Sea Lab reached hundreds of students and she found special joy in mentoring students. She loved to share her experience on the Johnson Sea Link, her fascination with coastal plants and algae and her southern drawl.

Jenny passed away in November 2018 after a long battle with cancer. As she found a special joy in mentoring students, her colleagues, past students and friends are honoring her contributions to marine science education with the Jenny Cook Memorial Scholarship to Discovery Hall's class in marine science for high school students.

Through the generosity of an anonymous donor, DHP is able to offer a scholarship covering full tuition to a female interested in the intersection of marine science and technology. Students should describe their interests and activities in these areas in an additional paragraph in their application essay.

The Dauphin Island Sea Lab Foundation Scholarship provides full tuition for a student to attend the class. Decisions are made on the basis of financial need. Students should address this need in their application essay as well as their interest in marine science.

The Mississippi-Alabama Sea Grant Consortium Scholarship provides full tuition for a student who participated in Alabama's state science fair and whose project addressed coastal, marine or environmental science or a related STEM field.