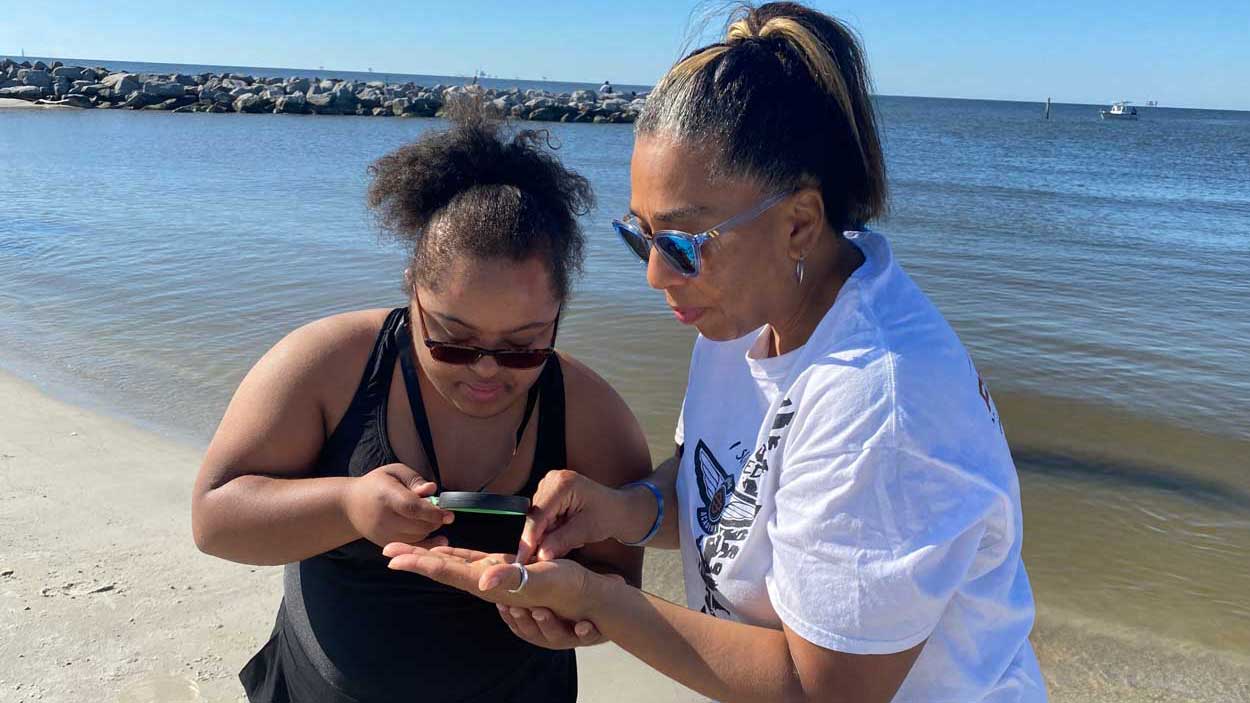 Dates: September 22-24, 2023
Sea Stars is a three-day buddy camp designed for students with special needs and their guardians to explore the Gulf of Mexico. This weekend experience is specially designed for students ages 9 to 18 with developmental disabilities. Paired with their guardian, campers will explore the wonderful marine world in a hands-on and fun atmosphere.
Participants explore Dauphin Island's many marine habitats, including Mobile Bay, the salt marsh, and the beach by boat, bus, and walking. An 8-person team of experienced educators and counselors (a 2:1 camper to staff ratio) conducts the Sea Stars program. The group may be outside for up to two hours at a time, being moderate, physically active. We provide plenty of shade and drinking water for all activities and take time to rest, enjoy the outdoors, and make friends during our explorations.
Sea Stars has traditionally been offered every other year. Our last program took place in September 2021. We thank our 2021 sponsors - Rotary Children's Foundation, Austal, and the Krewe of Kindness. If you are interested in becoming a sponsor, please contact our office.
Please contact us at seastars@disl.edu or 251-861-2141, 7515 for more information.
Sea Stars Camp in the news, 2019.
Krewe of Kindness was formed with the mission of providing assistance and support of families with special, non-medical needs to enable those to lead healthy and active lifestyles while emphasizing the importance of inclusion and acceptance within the community.
Lend a hand with your support to the Krewe of Kindness and find out how you can get involved by clicking here.
The Rotary Club of Mobile is one of the oldest and largest Rotary Clubs in the world. The club was founded in 1914, only nine years after Rotary was born. They started with 34 charter members, and today membership reaches almost 300 members.
Learn more about the Rotary Club of Mobile by clicking here.