The Dauphin Island Sea Lab maintains a fleet of vessels to conduct research and support educational programs throughout the year.
The two large research vessels are the R/V Alabama Discovery and the R/V E.O. Wilson. In addition to the Wilson and the Alabama Discovery, there are several small (14 to 30 feet) outboard boats and skiffs.
For information about DISL's research vessels, e-mail Josh Goff.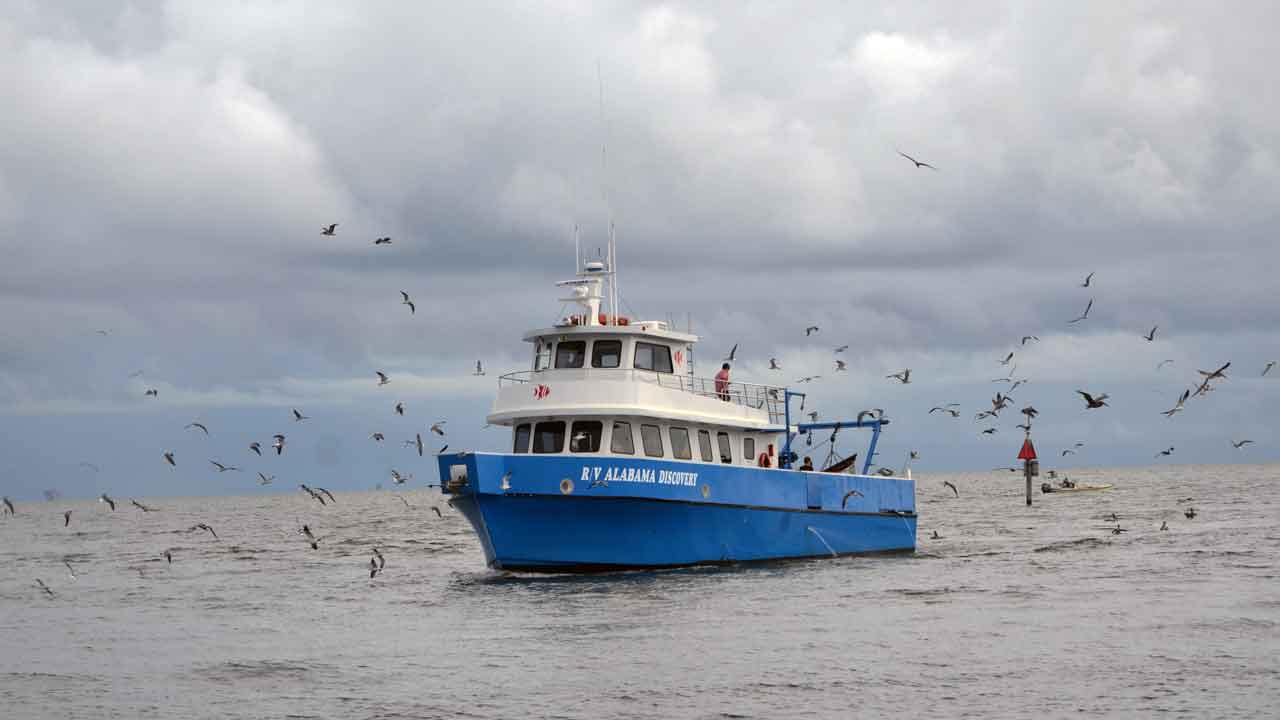 The R/V Alabama Discovery serves as Alabama's "floating classroom" for educational trips, public excursions, and private gatherings.
The 65 ft trawler, built by Chesapeake Boats (Crisfield, MD; 2009), provides the perfect setting for students of all ages to get face-to-face with some of coastal Alabama's marine life while cruising the waters of Mobile Bay, Mississippi Sound, and the northern Gulf of Mexico.
During the Spring and Fall, the Alabama Discovery routinely takes school groups for 2- and 4-hour outings where our crew collects and identifies a variety of marine life including fishes, invertebrates, and microscopic organisms.
In the Summer, the Dauphin Island Sea Lab K-12 and the University Programs Summer Programs use the vessel as a platform to teach the foundations of marine biology, ecology, and oceanography.
The R/V Alabama Discovery can accommodate up to 44 passengers for coastwise operations within 20 nautical miles of the Dauphin Island Sea Lab.
The vessel contains a large, air-conditioned cabin, ample deck space (including an upper deck aft of the pilot house), two restrooms, and plenty of seating both inside the main cabin and outside amidships. The main cabin is also outfitted with a microscope, large display, sink, and microwave oven.
R/V Alabama Discovery specifications:
Chesapeake Boats
Custom design, fiberglass over wooden frame
Length - 65 ft
Beam - 19 ft
Draft - 5 ft
GRT – 42 tons
Cruising speed - 10 kts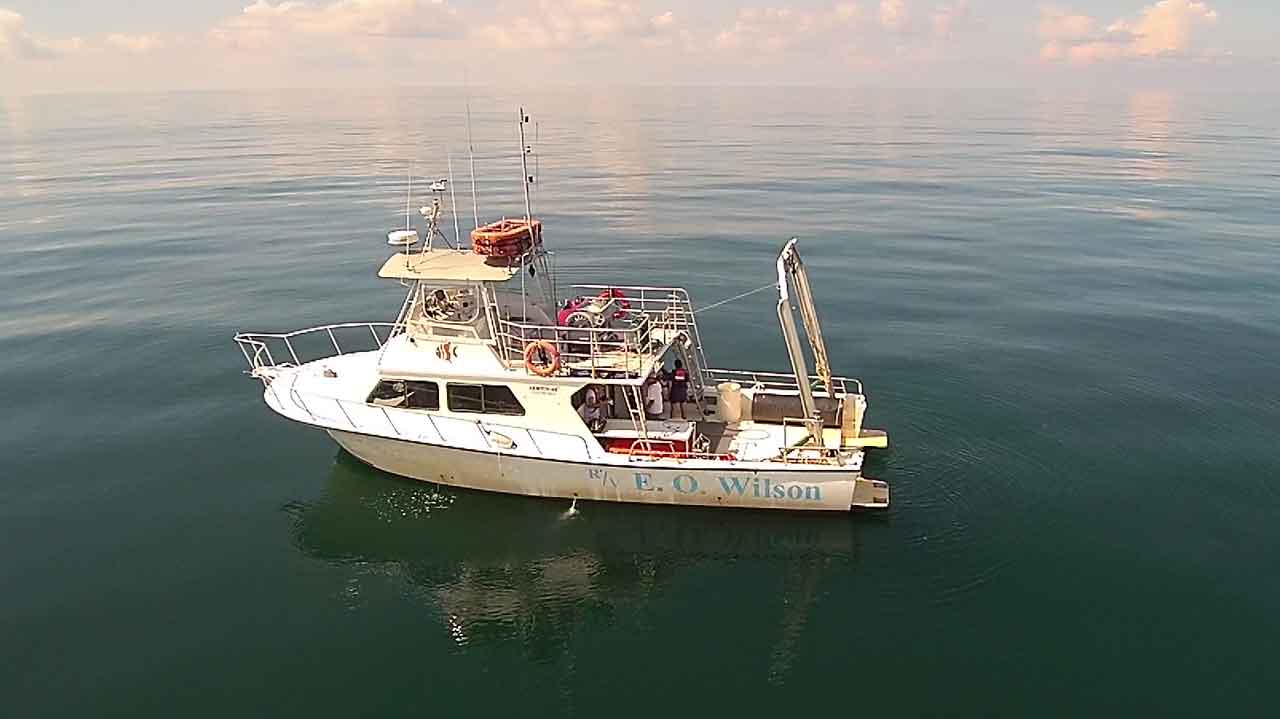 The R/V E.O. Wilson is the Dauphin Island Sea Lab's primary research vessel. Designed and built in 2005 by Newton Boats, Inc. (Slidell, Louisiana) the vessel has a relatively shallow draft, high cruising speed, and open-deck design that make it ideal for conducting a variety of research operations in coastal and nearshore environments.
The deck features an open transom and swim platform perfect for conducting dive operations. Additionally, the vessel is equipped with long-line rigging for offshore surveys as well as a 2-ton A-frame and hydraulic winch capable of deploying and recovering oceanographic instruments, bottom grabs, buoys, and moorings.
The R/V E.O. Wilson can accommodate up to 10 passengers comfortably and has sufficient space to store gear on the main deck, in the cabin, or below in the crew berths.
There is additional space on the bridge for passengers or gear if needed. Other amenities include a full freezer, small refrigerator, microwave, and private head with shower.
R/V E.O. Wilson specifications:
Newton Boats, Inc.
Custom design fiberglass
Length - 46 ft
Beam - 16 ft
Draft - 4 ft
GRT – 44 tons
Cruising speed - 15-20kts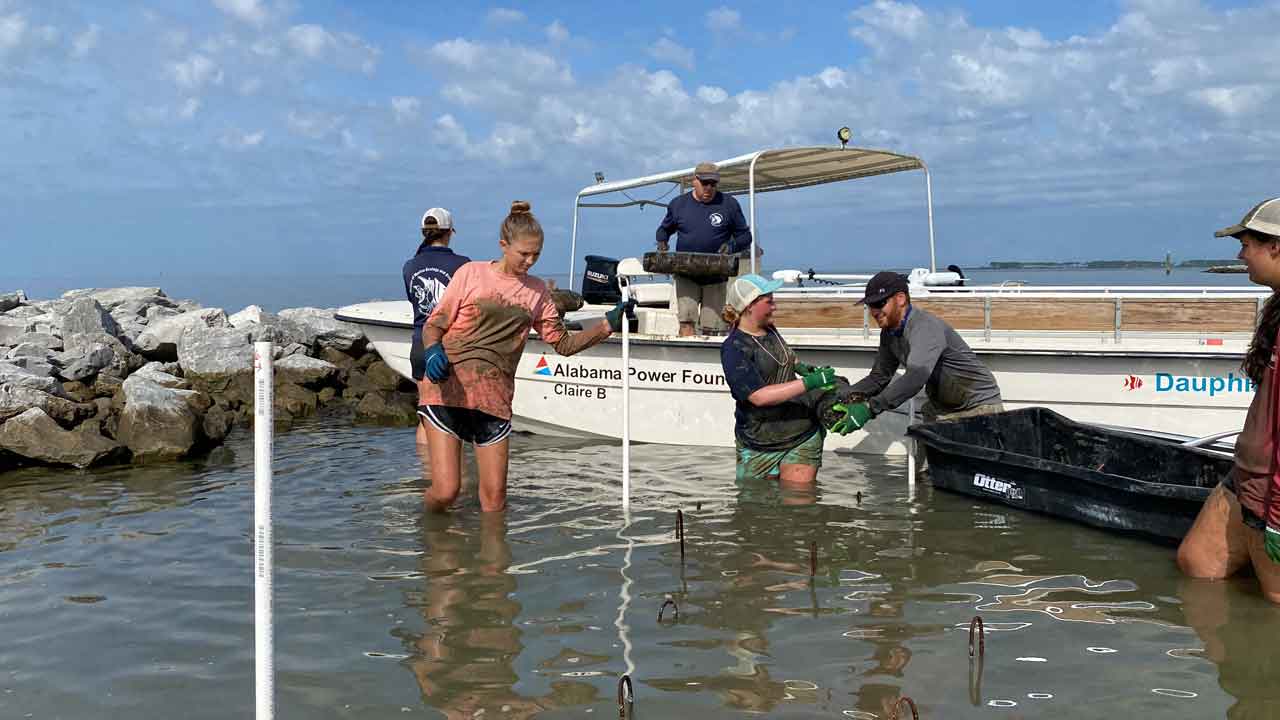 The Dauphin Island Sea Lab operates and maintains a fleet of small vessels ranging from 19 to 24 ft. These vessels vary in make, model, hull design, deck space, weight, and power to ensure that our research staff is able to access all of Alabama's coastal and nearshore habitats.