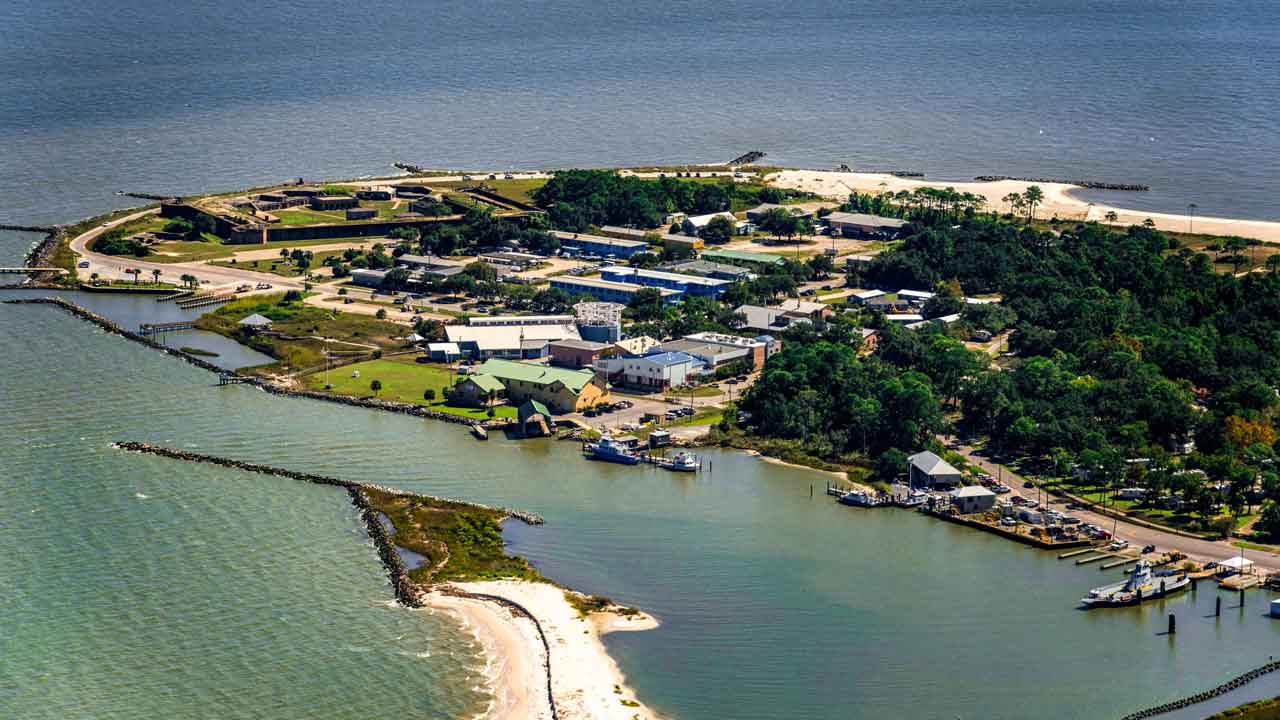 The Dauphin Island Sea Lab is located on the eastern end of Dauphin Island, a 17-mile long barrier island approximately three miles from the mainland and thirty-five miles south of Mobile, Alabama.
It is surrounded by Mobile Bay, Mississippi Sound and the Gulf of Mexico. The 35-acre campus is bordered by Mobile Bay to the north and the Gulf of Mexico to the south and is a five-minute walk from the Mobile Bay Ferry and Historic Fort Gaines.
The campus is a no smoking, no weapons, no pets campus.
Dauphin Island Sea Lab
101 Bienville Blvd.
Dauphin Island
,
AL
36528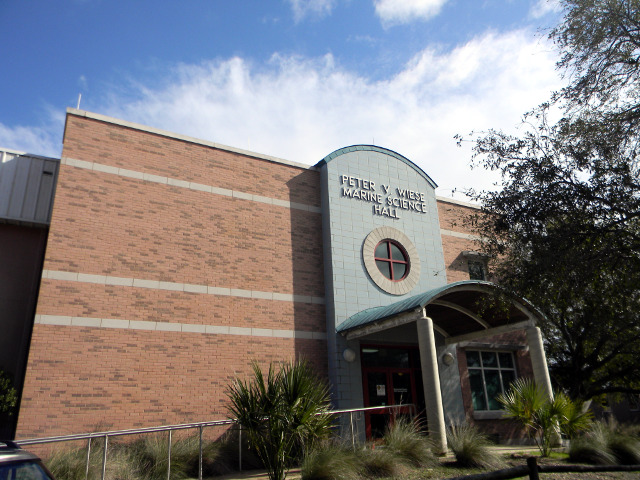 Campus-wide, instructional and research facilities include seven lecture/lab classrooms, three seminar rooms including two with web conferencing capabilities, a library, two computer centers; a culture lab, a wet lab, a flow-through mesocosm, a marine mammal necropsy center, and oyster hatcheries (operated by Auburn University).
There are four research buildings that contain offices and labs for faculty and students: the Shelby Center for Ecosystem-based Fisheries Management, the Peter Wiese Marine Science Center and the Marine Science Research Building, and the Marine Mammal Research building.
Marine Technical Support is tasked with assisting our scientists, students, and staff with any and all research operations and educational curricula.
Our technicians provide a wide variety of services including maintaining scientific instrumentation and equipment, administering DISL's wet lab and mesocosm facilities, assisting in field operations, providing support for scientific diving operations, and fabricating services.
In addition to these services, we provide guidance and training to equip our researchers with the skills they need to carry out their research objectives.
Marine technical support manages a fully outfitted machine shop that enables us to design and fabricate custom components on campus.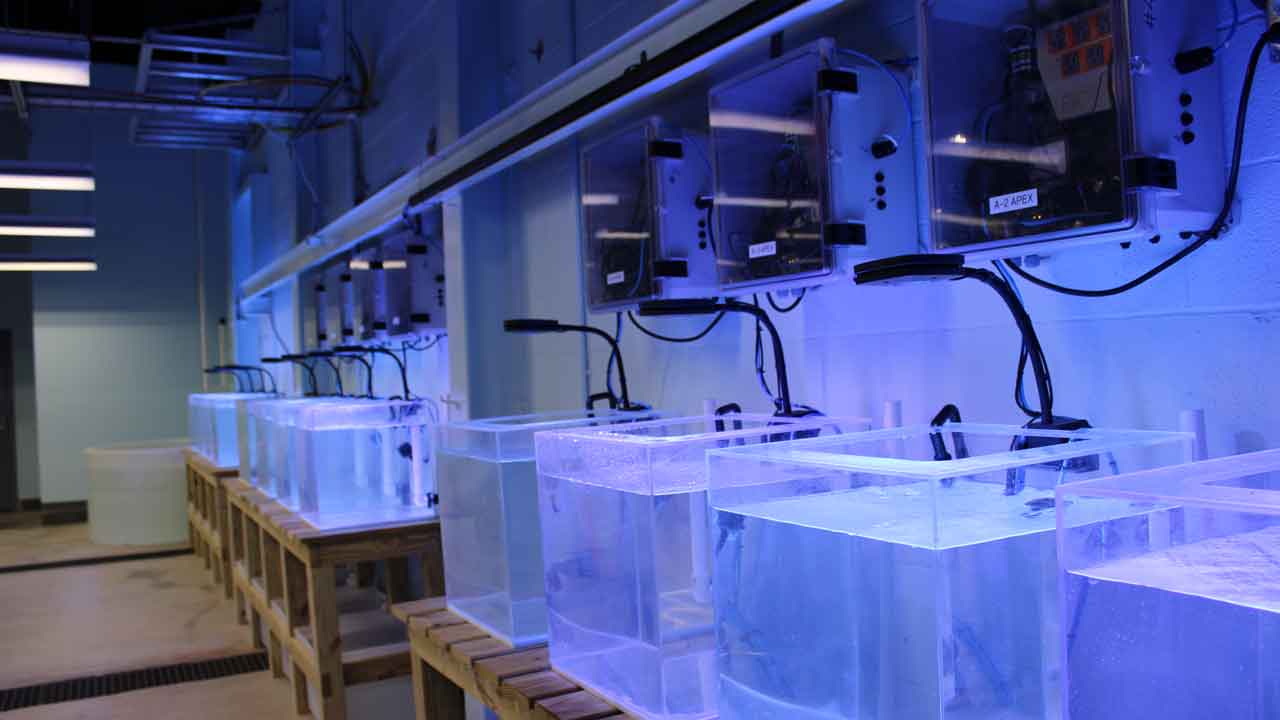 Main experimental area consisting of 32 isolated, 40 gallon aquarium systems. These systems are designed as multi-stressor experimental systems focusing on temperature, low DO, and pH but capable of being customized to accommodate novel designs as well. Systems provide remote observation and control.
The wet labs also have a variety of sizes of smaller and midsized holding tanks, four 1,100 gallon storage/mixing tanks, and a 15,000 gallon tank for storing/staging water collected from a part-time bay pump.
Between all the systems and spaces we're currently accommodating studies with fish, oysters, crabs, benthic colonies (various inverts), and sea grasses. We also, expect to house corals in the near future.
This out, off ground, open air flow-through facility has 24/7 water pumps delivering water from the Gulf of Mexico and 24/7 aeration blowers. There are 16-1,300 gallon cylindrical tanks under a covered pavilionand 4-5,000 gallon cylindrical tanks. The area includes space for other custom experimental buildouts.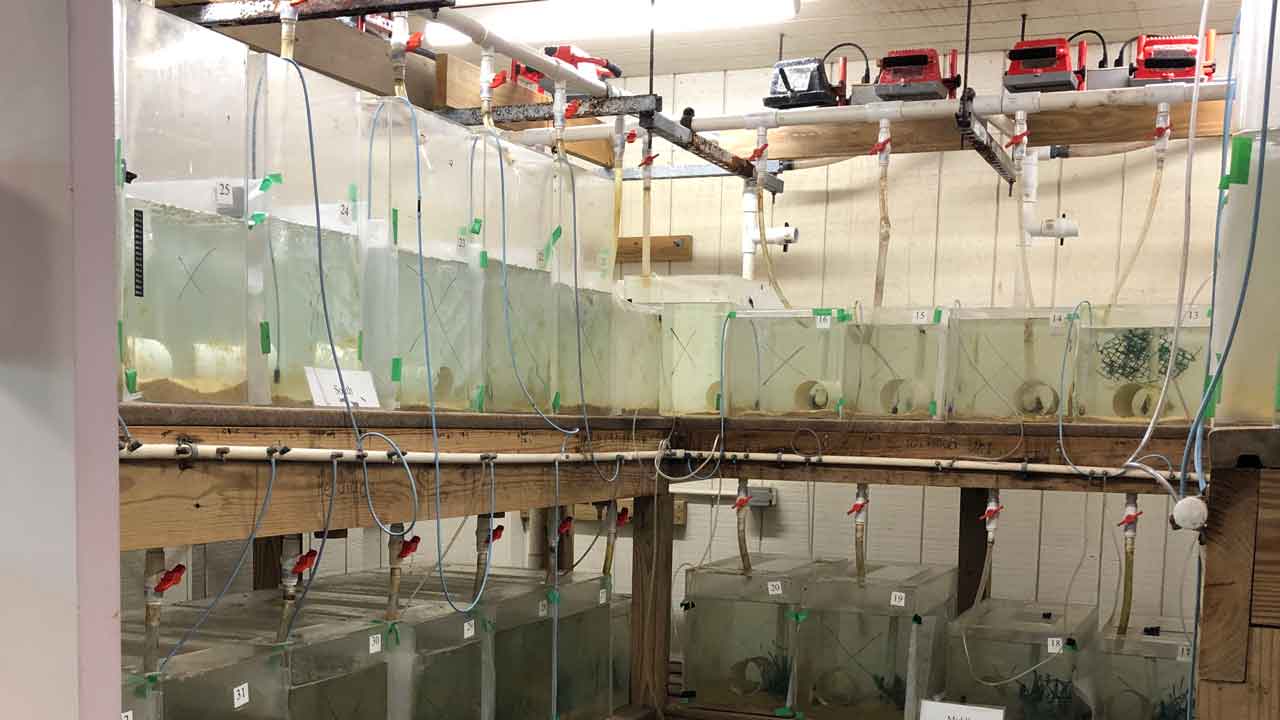 Conditioned space building with eight rooms customizable to accommodate a variety of experimental designs and build outs.
Currently have tank volumes ranging from less than one gallon to 1,500 gallons. Several rooms are set up as gang style systems consisting of several experimental tanks being served by one sump/head tank setup. There are a variety of setup, lighting, and filtering capacity options.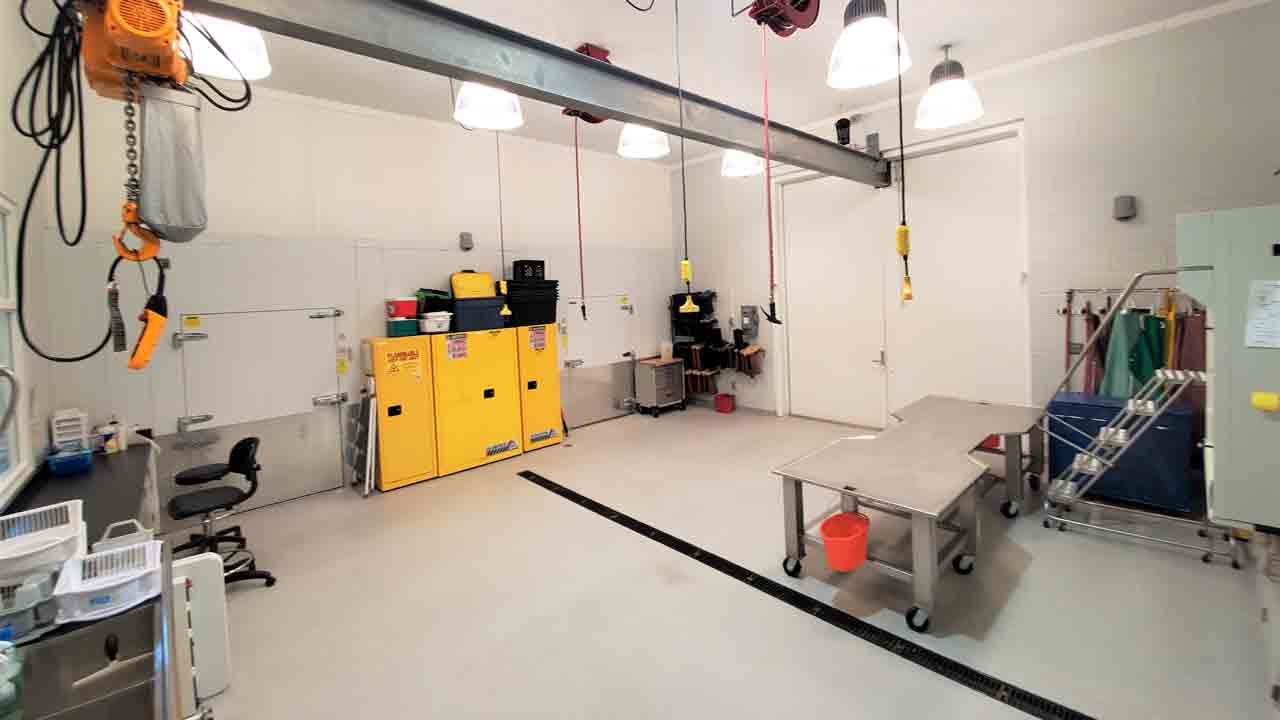 The Marine Mammal Research Center (MMRC) at DISL is a 2,750 ft2 building that includes a state-of-the-art necropsy facility, clean laboratory and office space.
The MMRC was opened in 2015 to house Marine Mammal Research Program staff and is the central location for the Alabama Marine Mammal Stranding Network at DISL.
The MMRC is outfitted with walk-in -20°C freezer and walk-in cooler, a 2-ton ceiling mounted winch, custom necropsy tables, antimicrobial flooring, fume hoods, clean bench, ultracold -80°C freezer, and chemical cabinets.
As of 2023, the space will also include a 'talk-back' intercom system to facilitate daily operations and support use of the facility for targeted K-12 and public education for the State of Alabama.
The Shelby Center for Ecosystem-based Fisheries Management, a LEED-certified facility, is home to the marine fisheries labs, a 200 person atrium and web-enabled seminar room, a conference room, and administrative offices.
The Shelby Center Atrium and Auditorium are available for public use. Learn more about booking an event by clicking here.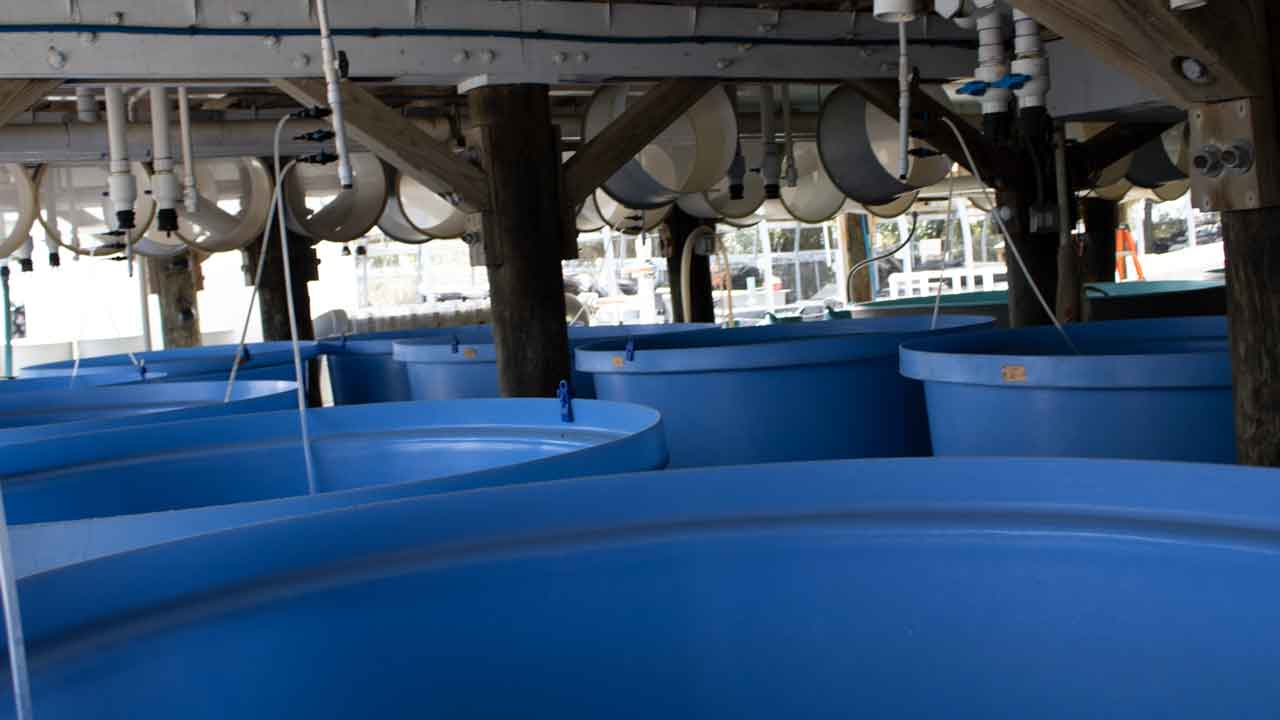 The Auburn University Shellfish Lab is a component of the Auburn University School of Fisheries, Aquaculture and Aquatic Sciences. The faculty, staff and students at AUSL conduct a variety of applied and basic research associated with marine invertebrates, including the Eastern oyster, Crassostrea virginica. The facility includes a production hatchery and nursery.
The Marine Science Research building on the Dauphin Island Sea Lab campus houses a marine chemical instrumentation facility that operates as a technical support lab.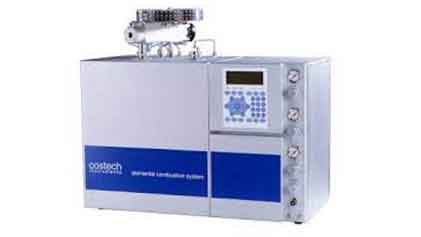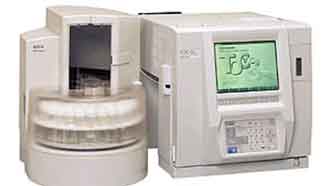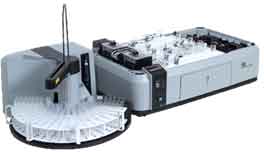 There is additional analytical facility instrumentation located at the University of South Alabama's Marine Environmental Sciences lab in Mobile, Alabama.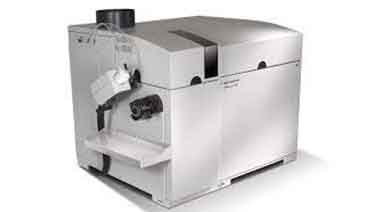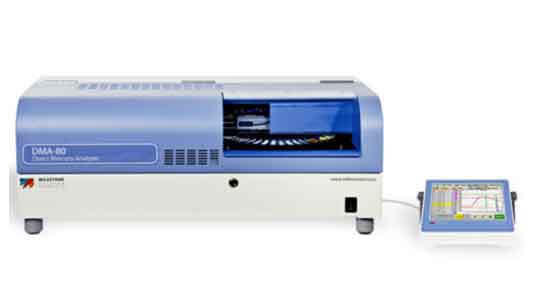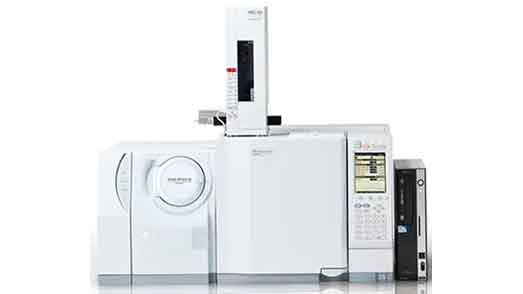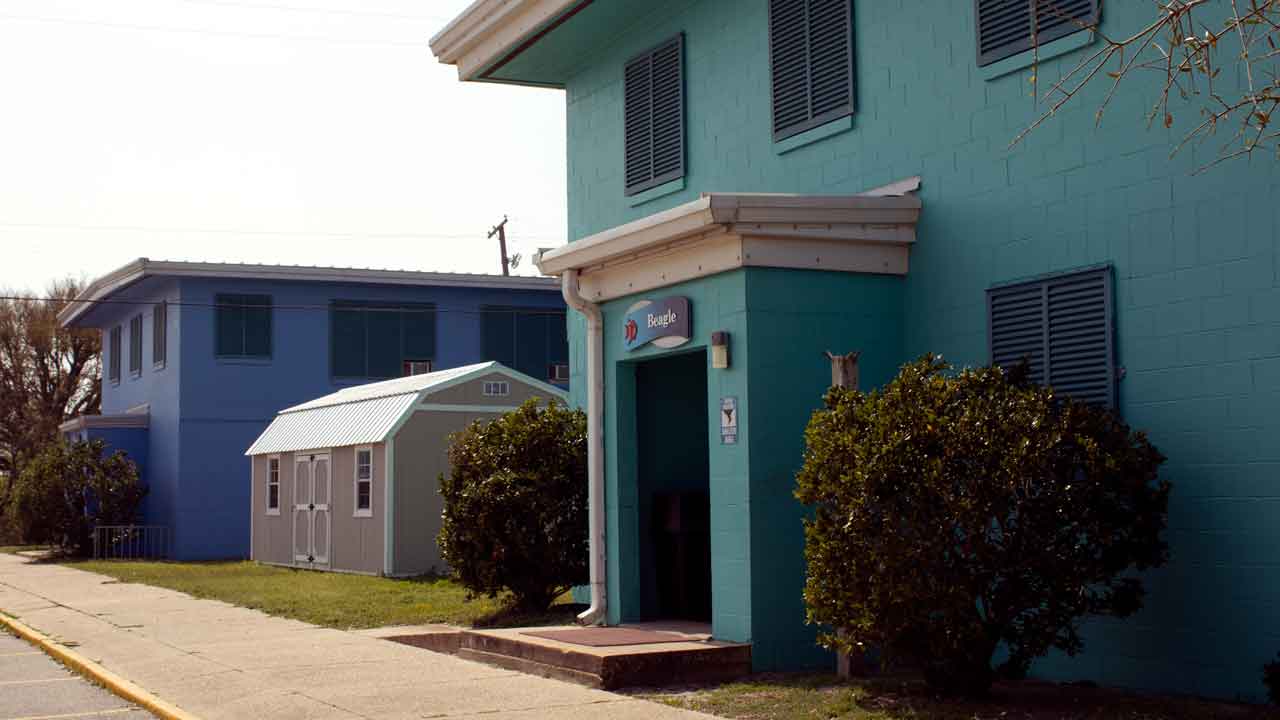 The main dorm buildings on the Dauphin Island Sea Lab campus are used year-round, both for field trip groups as well as summer programs. Each dormitory can house up to 86 people in 43 rooms, each containing 2 twin beds, a dresser, desk, closet space, and a single-unit air-conditioner.
A common area with a television and DVD player is available for groups staying on the first floor, as well as vending machines on the first floor.
There are two handicap-accessible, community-style restrooms on each floor.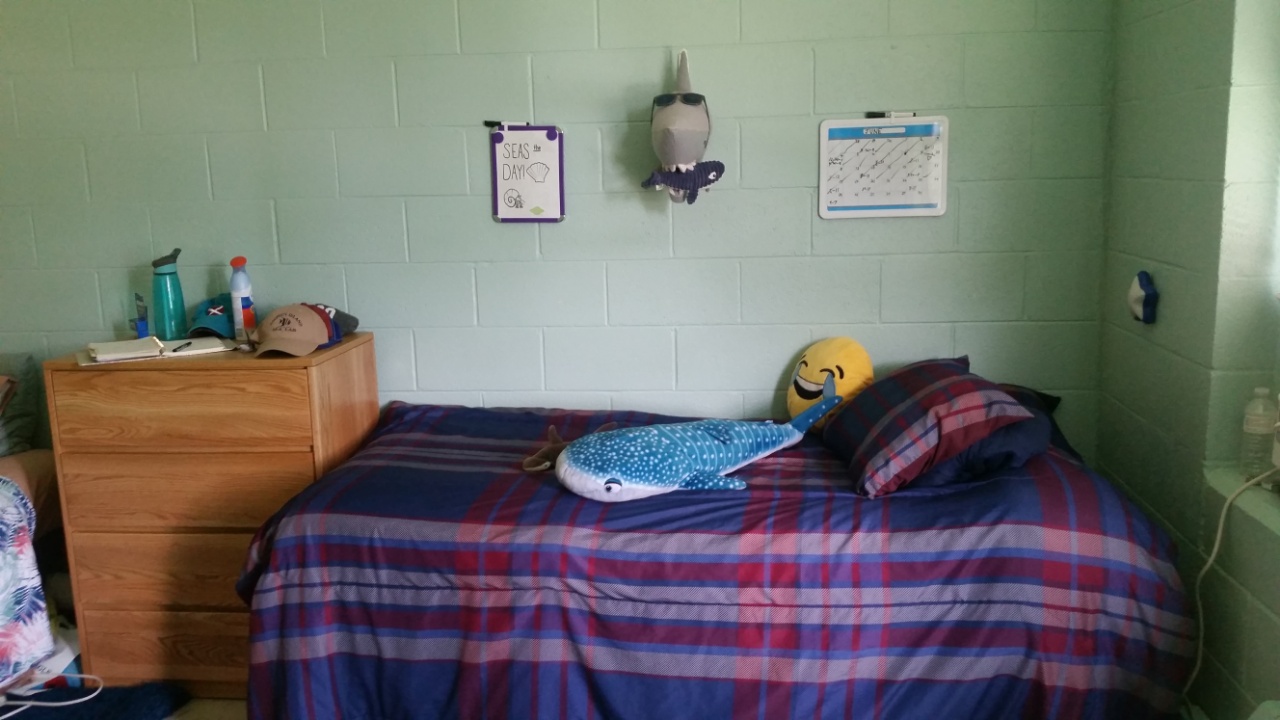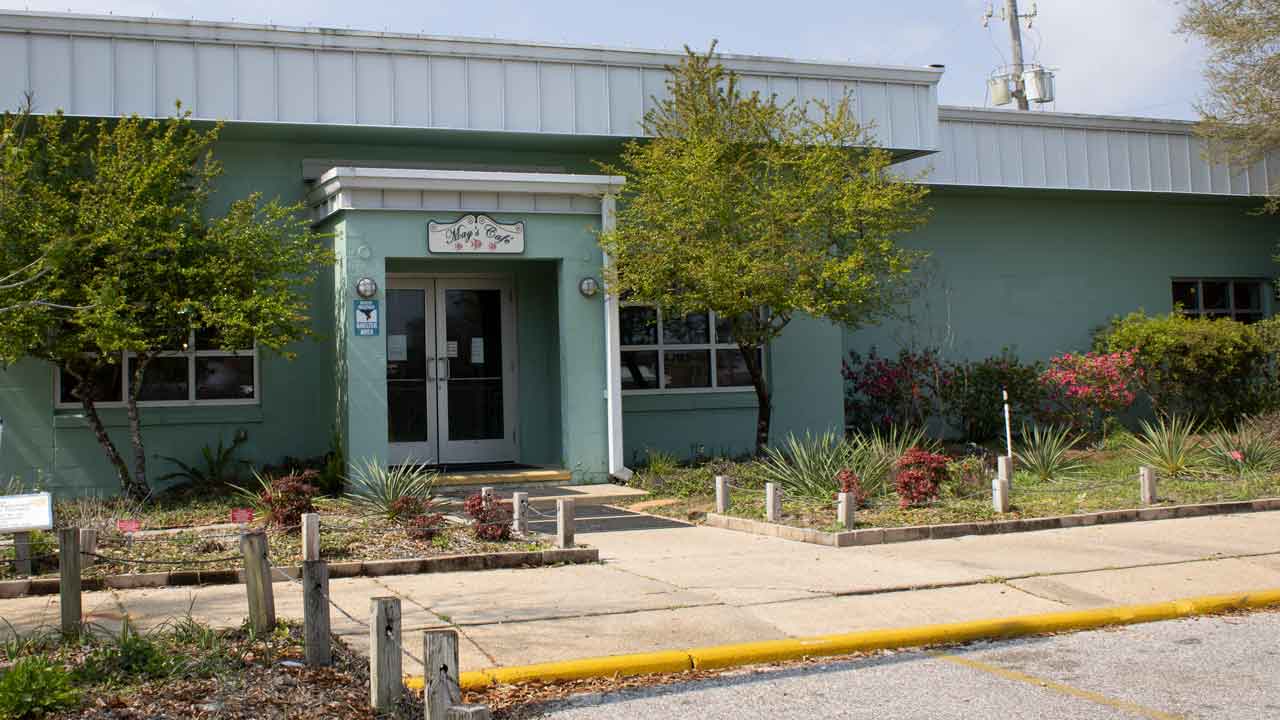 May's Cafe, named in honor of long-time DISL employee May Tillman, sports a fresh salad bar, home cooked breakfast, lunch and dinners, and a cheerful staff.